Contents:
Summer Blitz Success
Oneness Needs You
Cumann na mBunscol
Leaving & Junior Certs
VHI Mini Marathon
Coffee Morning
Meet the Members: Caelinn Ní Bhroin
Other News
Fixtures
Summer Blitz Success
After a four year break, the very popular Scoil blitz returned last weekend.
Special thank you to our sponsor Happy or Not who provided financial backing to purchase the 150 T-shirts ordered which enabled the club not to charge a fee for this year's event. Fantastic hours of entertainment free of charge, where would you get it…Scoil Ui Chonaill
Thank you for the support from Ross Bissett and Tipperary Water who provided 120 bottles of water and three boxes of crisps. Thanks also to Deirdre Lanigan and Bewleys who provided coffee and treats.
Over 140 children took part in games over the two days with the weather playing its part in ensuring that the spectators could relax and
enjoy the games on show. Events like these don't just happen and some serious planning went to ensuring the children had a fantastic afternoon of games and fun.
The blitz commenced on Friday evening with four teams competing in a league format to see who would be this years teenage blitz winners!
Sorcha Mulligans side defeated Realtin Candons side in a very entertaining and competitive final. Special thanks to Thomas Gleeson, Finbarr Maher and Molly Power for refereeing on the night.
On Saturday morning, it was operation blitz pitch set up, with a team of helpers hitting the grounds at 10am to move the goals into place, mark the pitches, organise the car park and get seating and tables ready for the cake sale. Special thanks to Dave Daly, Liam Ryan, Paul Maher and Sean Leahy for their work in preparing the pitches.
The registrations were extremely busy from 1.30 with children from 4 years to 12 years attending in big numbers. Thanks to Andrea for manning.
Our nursery group led by Aidan and Alan even added an assault course, that was rumoured to be straight off the Templemore training ground!
Our youngest grouping were having a great time with some fantastic skills on show for all to see. It was great to see Brendan O'Connell coming down to manage a nursery team and he showed some excellent decision making and he is one to watch for the future!
Our Under 10 grouping with the Under 8 and Under 9s started off proceedings with a parade which the children and coaches (waving their flags!) really enjoyed.
Thanks to Ciara Leahy for organising the music. Some suggestions that Dave Daly had organised a parade due to Kilkenny's lack of activity in September…
The Kilkenny footballers actually won two games having played one more then the actually KK footballers this year but were just pipped by John Kelly's Galway side which according to John is laying down a marker for the quest for the double in 2018!
Our Under 12 grouping had four teams managed by our adult footballers, Neil O'Flynn, Daire Ryan, Joey Ryan and Colin Deans. The lads were impressed by the football on display and the intensity of the play, parents and coaching staff watching…
Seamus Carr called for a club enquiry on the picking of the teams as there was a Courtney on the winning Armagh side which looked extremely strong on paper….Jp was seen in discussions with Paul Maher and Brian Kirwan after the event. Thanks to Sean O'Flaherty and Ethan Cassidy for refereeing, good life experiences lads!
While the blitz was going on, the team of cake and BBQ sellers were kept busy raising funds for Camogie gear for the girls. Great work from Tracy, Sandra, Suzanne, Jackie and team.
Special thanks to Podge Naughton who manned the bar throughout the whole day and Peter Morley for stewarding the car park, a real combined club effort.
#UpScoil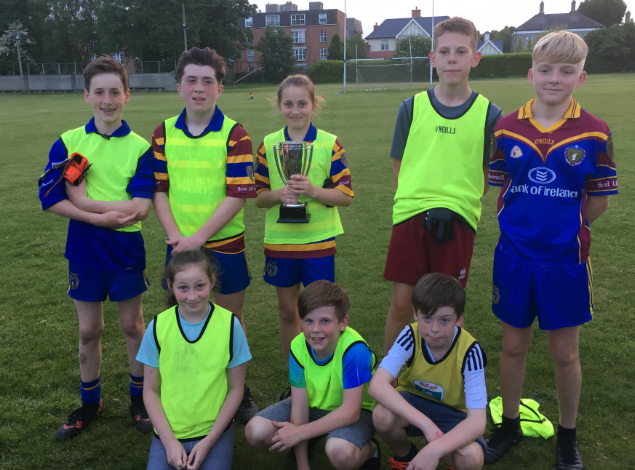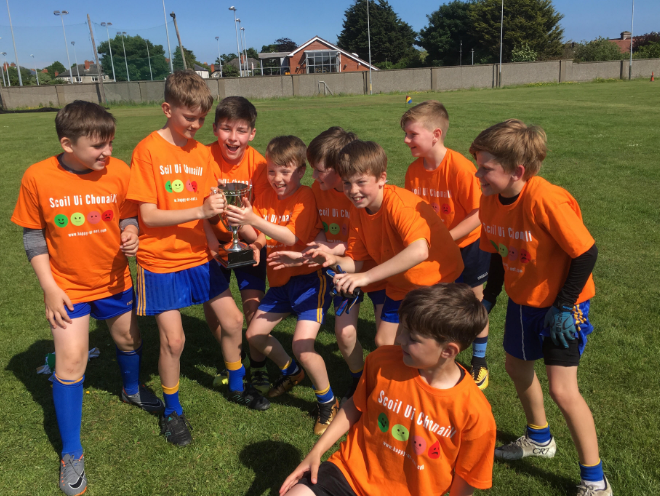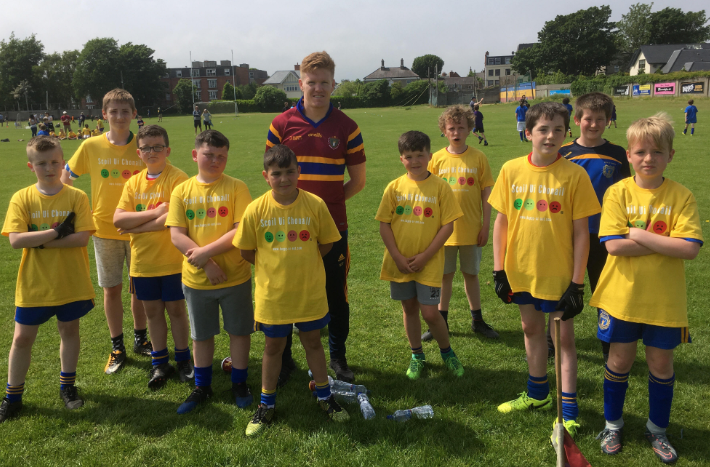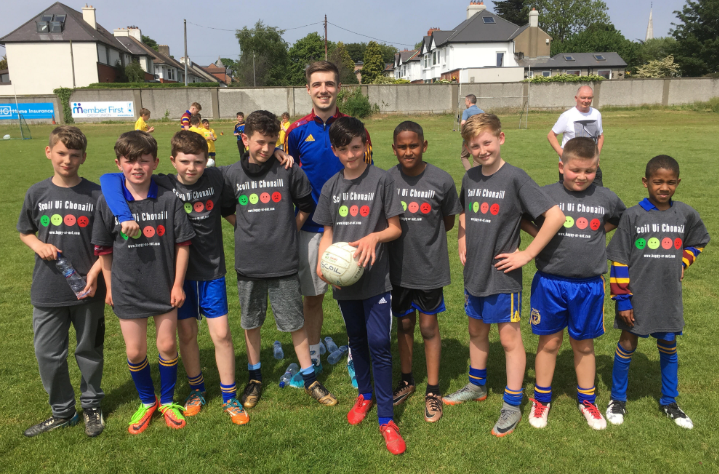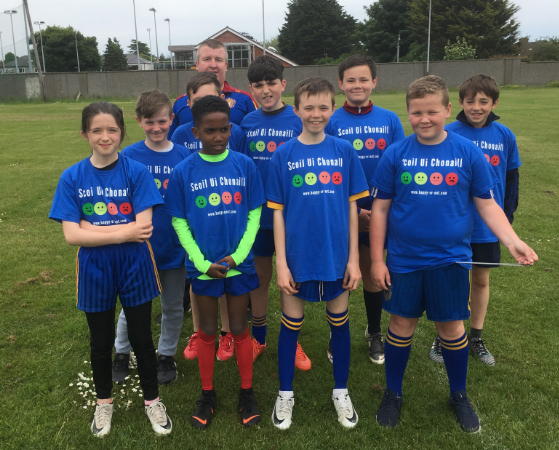 Oneness Needs You!
You will notice a boost in our social media activity in the coming weeks in relation to The Oneness Gala. This is because we are at a pivotal stage of our planning with selling tables being our top priority.

As we get more active we will be looking to YOU and asking you to do the same. Have you told someone who might be interested in this yet? Have you shared the link to the video or webpage with someone who has corporate influence?

This event is for YOU. The benefits are for YOU. What have YOU done so far?
Cumann na mBunscol
The Cumann na mBunscol Finals took place at Croke Park today. The Club had players representing Belgrove Senior Boys and Scoil Neasáin teams.
Well done to the Neasáin boys & girls on their win.
Hard luck to Belgrove boys Paddy, Rory & Jack who lost against Scoil San Treasa.
What a great achievement for these future stars to represent their schools at Croker though! We're sure you will all be back!
Go n-éirí an t-adh libh!
The very best of luck to all our members sitting their Junior & Leaving Cert exams which kicked off today.
Keep focused, mind yourselves & we can't wait to have ye all back on the pitch!
Women's Mini Marathon
The VHI Women's Mini Marathon took place on Sunday with over 30,000 women running, walking & jogging for their respective charities - including some of our very own Scoil Ladies!
Maibh sibh ladies - certainly not just footballers!
Coffee Morning
If you didn't already know, June is Motor Neuron Disease awareness month.
A coffee morning will be held in Scoil Neasáin on Saturday 16th June 10.30 am - 2.30pm in aid of the Irish Motor Neuron Disease Association.
If you aren't cáca-ed out, head on down next Saturday to support this great cause!
For enquiries text Deidre 087 237 88 08 / Ann 086 827 35 74
 
How long have you been involved in Scoil Uí Chonaill?
For about 13 years, I joined when I was 4
Do you have any nicknames? How do you like to be addressed?
Caels sometimes, Caelinn is fine when People actually pronounce it right
Where do you hail from?
Clontarf

How did you come to be involved in Scoil?
Both my older sisters were in Scoil and once I was old enough my dad brought me down to the nursery to join aswell
Briefly describe your Scoil career as a player / mentor / contributor, if any.
I'm a player on the Minors and the Ladies teams
What is your favourite sporting moment/sportsperson?
Muhammad Ali he's got the same birthday as me too
If Scoil was a country what would it be? Why?
Moldova because we've no moola
What would you say you are most known for within Scoil?
Caoimhe and Naoises little sister I suppose because I don't know really know everyone
What has been your greatest Scoil moment / achievement?
I remember in a really close match against Ballyboden, we were losing but I made such a good block and everyone started cheering for me. I was so chuffed in that moment with my little block it took me like 2 minutes to realise her foot had gone through and snapped the bone in my arm and even then walking off the pitch I thought it was well worth breaking my arm
What is your profession / field of study / passion?
Currently trying to find that out
What are your favourite hobbies outside of GAA?
Athletics, drama
What is your favourite Scoil 'quirk'?
How the tennis clubs flood lights used to be our only source of light in the night and once they were off there was no chance of seeing a thing
If you could make one addition to Scoil in any way, what would it be?
Paint the the outside of the clubhouse a bright colour because I hate those grey bricks
Want to feature in the Stag's Voice?
As a Club, we really pride ourselves on the close-knit community that we have at Scoil Uí Chonaill - help us in our effort in getting to know all of our members by filling out the Meet the Member's Questionnaire!
Other News
The Adidas Gear will be ready for collection next week - be sure to check your emails for pick up times.
Our last junior trad session before the summer will take place this Friday from 7-8pm in the Scoil Club house. All welcome.