Contents:
The Voices of Oneness
Dubs Bring Home Delaney
Summer Camps
Best of Luck, Hannah!
Hurl with Me
Meet the Members: Hannah Carr
GAA Healthy Clubs: Cardiac Screening
Other News
Team News
Fixtures
The Voices of Oneness
This week the Oneness Gala video series continues, as does it's message:
Scoil Uí Chonaill GAA Club leaves it's mark on each of us in it's own way.
Two more videos were released this week on the Club's social media pages.
Most people have done their part for Oneness by simplely sharing these videos on their Facebook/Twitter/LinkedIn. Have YOU?
Listen to Grá & Adam voice their unique stories on how Scoil has shaped their lives.
Have you played your part and contributed to this event yet?
Well, now you can without leaving your seat!
Dubs Bring Home Delaney!
Well done to the Dublin Seniors on their win against Laois in the Leinster Final on Sunday.
I'm sure we can all agree that seeing Andy Bunyan's name announced in the squad makes the win so much sweeter!
A more hardworking and admirable guy you'll struggle to find.
Massive congratulations Andy, from everyone at Scoil!
#UpDaBleedinDubs
Summer Camps
It's that time of year again... time to book your kids' place at the legendary Scoil Uí Chonaill Summer Camps!
Catering to all ages, skill levels and at an affordable cost, these camps are not to be missed.
Being outdoors, getting active & making new friends - could you think of a better way to spend your summer?
First up is the Kellog's Cúl Camps 16th - 20th July!
Contact Thomas @ 085 113 77 28 to book a place.
Best of Luck, Hannah!
Wishing the very best of luck to the Dublin Minors and vice-captain Hannah Leahy as they take on Cork this Saturday 30th June in the All Ireland Semi Final!

Hannah was previously named Player of the Match in the Leinster Final - more superb football is yet to come from this gal!
GAA Healthy Clubs
 
As part of the GAA Healthy Clubs, the Club is organising a Cardiac Health Screening with Declan Lyones from Precision Healthcare.
There must be a minimum of 20 people interested before booking a date.
Participants must be over 14 years old.
Prices start at €45 pp - will varying depending on numbers.
Contact Maire @ mauraderham@gmail.com if interested.
Hurl with Me
 
Scoil Gets Ready to Hit the National Stage:
In the year of 'Oneness, the World Cup, the Pope's visit and a royal wedding, the Scoil girls under 8s to under 10s are getting ready to make memories of their own in 2018. Thanks to the foresight of coaches Dave and Sean, the team were selected to take part in the Hurl with Me programme run by the Camogie Association as one of one 32 teams in the whole Island. The programme is designed to encourage parents to learn the basics of hurling.
After some preparation (and encouragement) over 25 parents signed up to take part. To ensure that everyone has enough space to show off their skills, the team moved to the St. Anne's Astro Park for 4 weeks which accommodated over 40 players and 25 parents. A big thank you to Aine Fanning for coaching our parents at the Hurl with Me Programmes. All the parents involved were delighted to take part and really enjoyed learning new skills.
After 4 weeks, our parents and players are now ready to take part in the National Blitz in the GAA Centre in Abbotstown. The team will play Watty Graham's of Derry, Ardrahan of Galway and Enniskeane of Cork. Everyone is looking forward to the day and their first experience of representing Scoil on a national stage. The girls are really looking forward to managing their parents.
Thanks to Irish Coaches for sponsoring Skorts for the team and everyone who support the team's fundraising at the Scoil blitz which has enabled us to buy jerseys for all our 42 players.
From starting small with 1 team in 2017, we now have over 42 girls with 4 teams playing every weekend and training twice a week. With our number growing each week, the future is certainly bright to this group.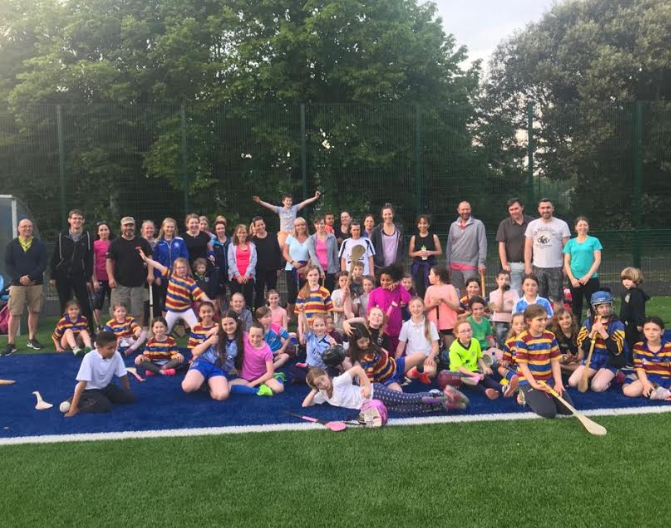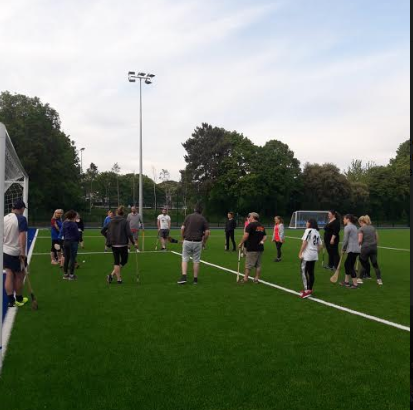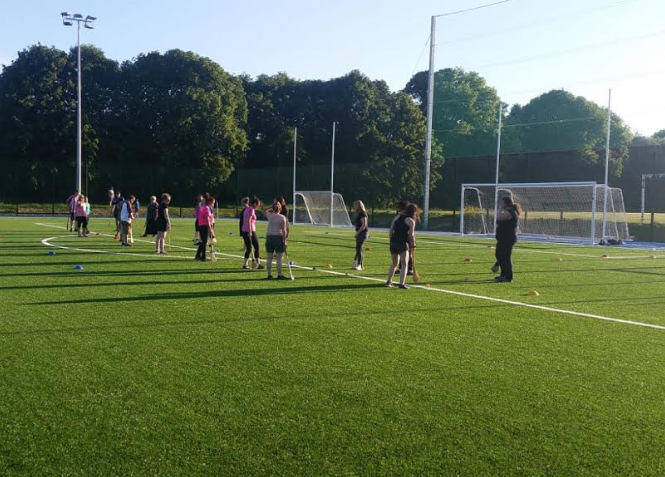 How long have you been involved in Scoil Uí Chonaill?
This is my first season with Scoil
Do you have any nicknames? How do you like to be addressed?
Han
Where do you hail from? i.e. county, country, suburb etc.
Donegal
How did you come to be involved in Scoil?
My fellow Donegal teammate Lucy Murphy said the Scoil team needed a wee bit more diversity in the squad! Still haven't officially signed the transfer forms yet!
Briefly describe your Scoil career as a player / mentor / contributor, if any.
Just the beginning
What is your favourite sporting moment / sportsperson?
My wee sister winning two Gold medals and a silver medal in the Irish special Olympics 2018! A memory I will never forget!
What is the funniest thing that has happened to you in Scoil?
When a well known juvenile coach took my good Donegal bag out of the changing room and brought it home to keep it 'safe'.. I can laugh about it now but at the time it was a bit of a shock!
If Scoil was a country, what would it be? Why?
Germany, they let anyone in
What would you say you are most known for within Scoil? i.e. what do people associate you with?
Being a wee Donegal lass
What has been your greatest Scoil moment / achievement?
Whacking on that hooped jersey for the first time against a division one team in a friendly
What is your profession / field of study / passion?
Primary school teacher
What are your favourite hobbies outside of GAA?
Well there's not much free time for hobbies after all the cows have calved and the sheep have been sheared!!
What is your favourite Scoil 'quirk'? e.g. the Geese on the pitch
It's probably the most welcoming club I've been a part of
Finally, if you could make one addition to Scoil in any way (don't be restricted by the plausible!), what would it be?
BBQs not just for the dubs matches - not discriminating against other counties!
Want to feature in the Stag's Voice?
As a Club, we really pride ourselves on the close-knit community that we have at Scoil Uí Chonaill - help us in our effort in getting to know all of our members by filling out the Meet the Member's Questionnaire!
Other News
This is the final week to collect the new gear for the Siopa between 10am - 11.30am.
Team News
Summary:
Nursery continues on Saturday at 9.30 (last training before summer) and as always new members are welcome to join in and have fun!
Under 11-14 Hurling Development squad training continues on Friday night @7pm in club
A strong start for Parnells was no match for our super U11s
U9 Hurlers show plenty of bright sparks against Raheny
U10 Girls travel to Clontarf for a blitz vs Clontarf and Clann Mhuire
U8 Girls play their first game at this age group
Nursery
The Scoil Uí Chonaill Under 7s (Scoil Academy) pre-summer schedule concluded this weekend. We travelled the short distance to St Paul's to take on Clontarf and Binn Eadair with boys and girls teams for football.

The girls played 4 matches against Clontarf and had a blast. In all 4 games the girls stuck to their positions and put great passes together. The boys played several matches and showed great skill and commitment throughout. Both the boys and girls really enjoyed playing matches against some classmates which resulted in some interesting conversations. Many thanks to Clontarf for the welcome and the treats and we look forward to future games and battles being played in the same great spirit.

Nursery continued as usual for everyone last Saturday morning at 09:30 and it was great to see more new girls and boys joining in. Congrats to our players of the week. This Saturday is our last training before we break for the summer. As always new players are welcome to join in and have fun!
U8 Girls Football
Scoil Girls under 8s played their first ever games at this age group on Sunday last at Clontarf road. It was meant to be a 5 team blitz but unfortunately Clanna Gael were unable to field any teams and St Sylvester's could only manage 1 team. Despite this Scoil girls got to play 3 great matches against a very strong Sylvester's team. Despite haven't never played together before Scoil created many great chances and defended well in all games. It took 3/4 opposition players to mark Emily while Sarah and Lena never gave up. Thanks to everyone for coming out and hopefully everyone enjoyed the ice cream and medals.
 
U10 Girls Football
We made the very short away trip to St Anne's pitch 22 on Saturday afternoon for a Blitz with hosts Clontarf and Clann Mhuire.
We had 2 teams on the day and each team played 3 matches all against the local rivals in red.

Team Blue had a bit of a slow start in our first game where despite applying a lot of the pressure got caught a few times on the break. Like the players the Mentors are learning every day and the defensive structure was quickly addressed. In the following two games our application improved greatly and we exceeded our stats targets in all areas. Most pleasing was the number of hand blocks on opponents shots and the number of turn overs from swarming the opposition. Taiya was easily top of the charts for defensive play and Caragh was equally good in attacking and defensive duties. Abigail was creative throughout and had a moment of pure magic when playing a perfect overhead kick pass to Caoimhe when surrounded by several opponents.

Team Amber played well throughout, the score lines didn't reflect the performance where scores just would not convert. The first game was very close and showed some gaps that we closed in the second, but the heat of the day got to some going into the third game. The girls showed great spirit and determination throughout. It was a joy to see our girls using the skills we have been working on. Aishat dominated midfield in all three games dropping back to defend while also positioning herself for many scoring chances. A solid back line headed up by Abby defended well. Great blocking and teamwork in covering back for each other. Nessa and Aoibheann put in solid performances. The forwards were met with some strong defending from Clontarf, and despite many good chances the scores just wouldn't come our way.

Well don't to all, it was a great days football
U9 Hurling
Our u9s played Raheny in St Anne's park on Saturday. Overall, the bigger more physical Raheny team edged us on the day, but there were plenty of bright sparks.
The Blues were involved in a very competitive match and after a slow first half they really stepped it up in the second half. Orson had his best match ever for Scoil, covering acres of ground and tackling anything that moved.
The Maroon and Blue teams had off-days and in particular couldn't match a much bigger Raheny side. The plan is to put our lads on the protein shakes for the summer holidays. Leaving size aside though, we did talk afterwards about the need to fight harder in the tackle, getting tighter and leaning in. Too often we saw hurleys going in with half-hearted tackles from distance. There will be wrestling at training this week.
That said, for the Maroons, it was great to see Joseph, Matthew and Danny all rise the ball and strike from the hand during the game. Joseph was another man to have his best game ever for Scoil. It's a great sign of his character that he had his best game in the most difficult of matches. Aibhilín too was superb and led the way in showing the boys the level of physicality needed at this level.
The Blues showed their determination too, right to the end. For the last 5 minutes they were camped in the Raheny half peppering away at their goal.
So, plenty to work on for this young Scoil team, but the good thing about being the younger team is there is extra time for improvement! No better time to work on this than the summer holidays – make sure you have a hurley and ball with you wherever you are this summer!
U11 Boys Football
Scoil Uí Chonaill 9-9 Parnells 4-6

Parnells started brightly and hit a goal and a point in the first few minutes. Scoil responded well with Conor and Adam getting control of midfield. Ronan put in some excellent tackles to stop scores. Scoil finished the half leading 4-3 to 3-3. Scoil dominated the second half with Conor putting in a very strong dominant performance with himself and Neil adding a couple of very good goals. Liam showed really well for the ball and scored some lovely points and goals. Special mention to Cornell who hit the back of the net as well.