Contents:
Meaney Tells His Tale
Gold for Stevo!
Summer Camps 2018
AED/Defib Training
Meet the Members: Luke Brannock
Other News
Team News
Fixtures
Meaney Tells His Tale
This week as part of the Oneness Gala, we will sharing four videos, with one message: Scoil Uí Chonaill GAA Club leaves it's mark on each of us in it's own way.
In the first part of the series actor Colm Meaney recalls his Scoil Uí Chonaill tales.
The rest will be released this week on our social media pages so keep an eye out!
Eeny Meaney Miney Mo - Catch Colm's video here!
All Smiles as Stevo Wins Gold!
Massive congratulations to Steven Lee on winning a gold medal in basketball at the Special Olympics Ireland Games last weekend.
What a fantastic achievement for this Scoilman!
Steven has previously represented Ireland at the Olympics - no doubt there's more medals heading his way!

...On another note, don't the Coadys look smokin' in their brand new Scoil gear?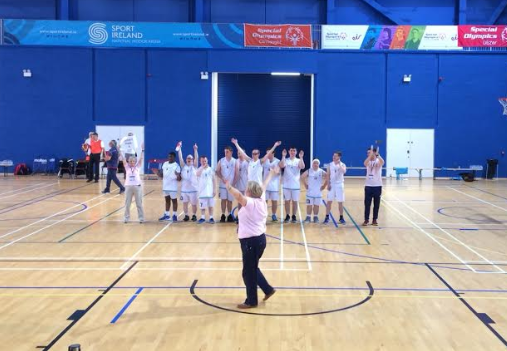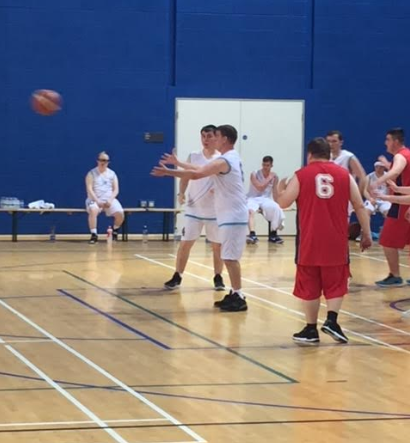 Summer Camps
It's that time of year again... time to book your kids' place at the legendary Scoil Uí Chonaill Summer Camps!
Catering to all ages, skill levels and at an affordable cost, these camps are not to be missed.
Being outdoors, getting active & making new friends - could you think of a better way to spend your summer?
First up is the Kellog's Cúl Camps 16th - 20th July!
Contact Thomas @ 085 113 77 28 to book a place.
AED/Defib Training
Thank you to Vinnie & Jeff from MrSafety.ie who helped 10 of our Club members complete their AED/Defib training last Thursday.

In case of an emergency, do YOU know where the defibrillator is kept at Scoil?
 
How long have you been involved in Scoil Uí Chonaill?
1.5 seasons
Do you have any nicknames? How do you like to be addressed?
Sausage (apparently soft in the tackle). Iron Man.
Where do you hail from?
The Banner County
How did you come to be involved in Scoil?
Neil O'Flynn is my cousin and he had been at me for a few years to train with Scoil. I reckon he had it all planned as I was signed up after 2 training sessions.
Briefly describe your Scoil career as a player / mentor / contributor, if any.
I am a member of the senior football team. In my first season, we made it to the div 2 league playoffs. Moving to Dubai for now but hopefully back next season!
What is your favourite sporting moment / sportsperson?
Fulham FC reaching the Europa League Final
What is the funniest thing that has happened to you in Scoil?
Plenty of funny moments, not sure what is appropriate to share. My fat % test when I first joined Scoil was hilarious though.
If Scoil was a country, what would it be? Why?
Sri Lanka - Plenty of sound people there.
What would you say you are most known for within Scoil? i.e. what do people associate you with?
Sausages & Curls
What has been your greatest Scoil moment / achievement?
Scoring 1-5 off the bench in a recent league match against Whitehall. I was rightfully taken off in champo at half time and dropped for this match. It felt great to make a positive contribution for the team.
What is your profession / field of study / passion?
I just completed a Msc in Aviation Finance in Smurfit. Now working with the Aircraft Investor Services team at Dubai Aerospace Enterprise Capital. Passion is clearly for birds.
What is your favourite Scoil 'quirk'? e.g. the Geese on the pitch
Shaking Peter Morely's hand before every training session and match, what a legend!
Finally, if you could make one addition to Scoil in any way (don't be restricted by the plausible!), what would it be?
Floodlights/enhanced training facilities. The Oneness gala in Chicago is a great initiative to fund future development..Scoil Abú.
Want to feature in the Stag's Voice?
As a Club, we really pride ourselves on the close-knit community that we have at Scoil Uí Chonaill - help us in our effort in getting to know all of our members by filling out the Meet the Member's Questionnaire!
Other News
The new gear is ready for collection from the Siopa Saturday 23rd/30th June between 10am - 11.30am. Can all recipients of new gear please double check that they have not received anything in error. Contact scoil.pro.eoc@gmail.com if you suspect you have
Team News
Summary:
Nursery continues on Saturday at 9.30 and as always new members are welcome to join in and have fun!
U11 Boys made the trip out to Stillorgan last Saturday for a football game against Geraldine Moran's
Syls prove to be a strong side vs our U9s.
U10 Girls played very well against local rivals Raheny
U11 Boys Football
Scoil ui Chonaill 9-11
Geraldine Moran's 0-11

Scoil made the trip out to Stillorgan last Saturday for a football game against Geraldine Moran's. Scoil started well and hit some very good scores after excellent interplay by Fionn, Alan and Adam. Alex was keeping his man well marshaled at the back with Luke a very cool presence between the sticks. Charlie showed for the ball really well while Conor worked tirelessly in the first half.

Conal gained the upper hand in his midfield battle and some further scores by Adam left Scoil well ahead at halftime. Scoil were playing up the hill and against the wind in the second half but looked very solid in defending the lead. Neil and Luke got on the scoresheet with two well taken goals in the second half. It was obvious that the opposition weren't used to losing but after a tough physical encounter Scoil can hold their heads up high.
U10 Girls Camoige
The u10's girls played very well against local rivals Raheny resulting in 2 wins, a draw and one loss.
Red Team
The girls showed great determination in both matches and their skills in lifting the ball is improving all the time. Nessa played her best game of the season covering across the back line and striking the ball well out of hand. Score of the day came from Sadhbh who struck a brilliant point. Emily too battled hard throughout.
Blue Team
In low scoring matches, both teams were well matched in a beautiful sunny afternoon on Clontarf road. Aishat played her now normal central role with great blocking, lifting and scoring. Aoibhinn too had a good game as did Ciara who bounced back from a hit on her shinguards from a hurl that could be heard all around the grounds.
U9 Girls Camoige
The U9's were in good form at the weekend winning well away at Clanna Gael
Green Team
All the girls played very well and contributed to a fine overall performance. In the back line Abigail performed very well and scored a great goal from distance. Lena battled all day and was rewarded with some great goals. Joya and Priya both played very well and their skills are improving each week.
Yellow Team
With Clanna Gael light on numbers, some of our players played for them to ensure everyone got a game and it worked a treat. All the team showed great skill and great scoring and defending. Aibhilin scored a point and hit the underside of the cross bar from her puck outs!!! Aoife scored some great goals and Aifric showed great determination in blocking.
U9 Boys Football
With Syls unavailable on Saturday, they visited us on Monday night on pitch 13. They proved to be strong opposition.
The Yellows were involved in a really cracking full-blooded match with some of the hardest tackling we've seen at u9 level. Syls got a bit of a run on us at the start, but once we got our marking sorted out it turned into a fantastic end to end affair. Just as we were getting on top, Sean took a nasty bang to the knee and the tide turned again. It would be difficult to single out anyone on the night as they all gave so much, but special praise must go to Noah who was an absolute hero and gave everything to every challenge. His flying block down was the highlight. Brody too was a ball of energy up and down the pitch and scored one phenomenal point from a tight angle out on the wing. There were some superb passing moves up the pitch too involving all the other players. What the team needs to focus on for next time out is maintaining concentration for the full 40 minutes. On a few occasions players lost sight of who they were marking or forgot their positions altogether, allowing Syls some easy scores. But overall this was a stirring encounter.
Both the Blue and Maroon teams were very sluggish in their respective first halves; not marking our opponents and often second to the ball. Both teams regrouped during half time, putting in strong second half performances with most players giving their best.
For the Blues, James was superb in the second half and energetically covered back to start many attacks. Rory, Conan and Darragh stayed close to their opponents and made some strong tackles and turnovers.
For the Maroons, Cian and Caleb fought bravely while Shay chipped in with a few nicely taken points. The whole team showed a lot of character in the second half to fight their way back into the game.
The clear lesson from these games is that we are as good as any team - but need to be more tuned in and doing our best from first to final whistle.
Finally, thanks to all the parents for such a great turnout on a Monday night.
Nursery
The Scoil Uí Chonaill Under 7s (Scoil Academy) grueling schedule continued this weekend. We hosted 3 strong teams from Whitehall for hurling matches. With our coaches on refereeing duty we had 3 excellent managers in Aideen, Jackie and Cormac.
The standard of hurling was superb with great blocking and striking from all players. All the training is certainly paying off. The Whitehall coaches were very impressed with the standard of the Scoil players.
A great mornings hurling was topped off with some treats for all players. Next up are football matches next Saturday with Beann Eadair and Clontarf.
Nursery continued as usual for everyone last Saturday morning at 09:30 and it was great to see some many new girls and boys.
Congrats to our players of the week and as always new players are welcome to join in and have fun.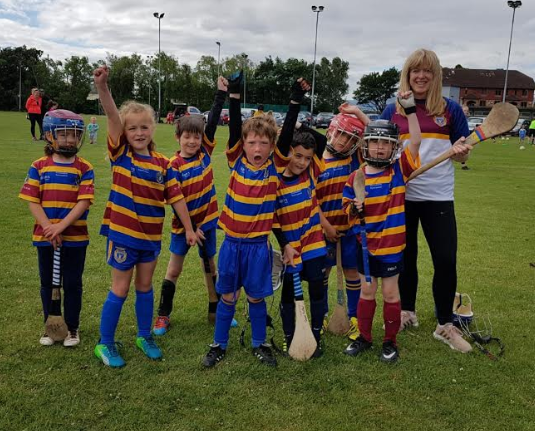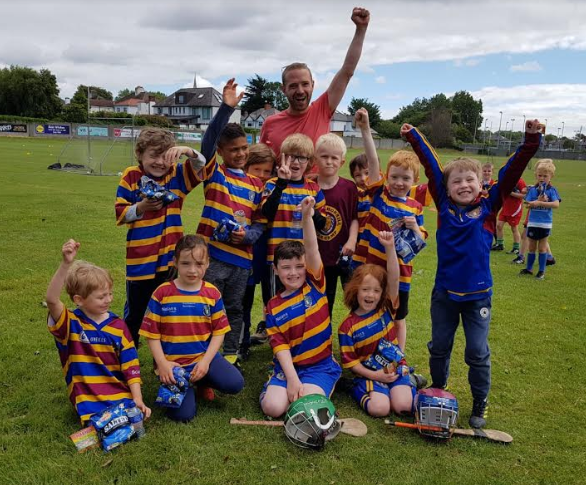 Well done to the Scoil Academy on their hurling blitz against Whitehall!
Also well done to the three excellent stand-in coaches Aideen, Jackie & Cormac!