Contents:
Snow Day - Scoil Style
Easter Camp Bookings
Pitch Remains Closed
Scoilly Woolies
Chicago Fundraiser
Half-Time Stars
Meet the Members: Aoife Maguire
Other News
Fixtures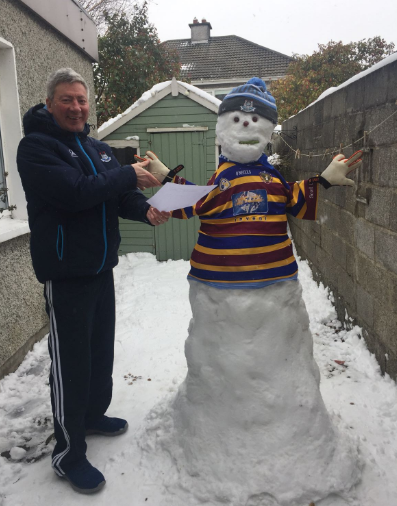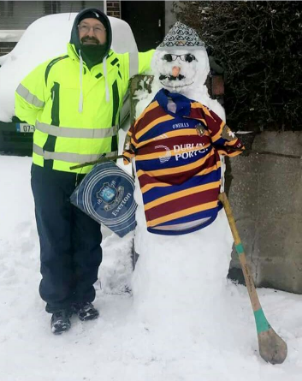 Snow Day - Scoil Style
We hope that you all enjoyed your snow days last week - be it playing out in the snow or tucked up inside! Back to business this week with plenty of fixtures to get out and watch over the weekend!
No slacking however for some of our members as they were hard at work recruiting snow-players.
Just look at that 4ft beast - nearly as tall as Matt Cushen!!!
Scoil Easter Camps
It's that time of the year again... time to start booking your child's place at the popular Scoil Uí Chonaill Easter Camps!
Junior Camp (4-12years)
4 days: 3-6th April
Time: 9:30-1:30
Cost: €40, 2nd child €30, 3rd child €25
Advanced Camp (U13-U16)
2 days: 27th & 28th March
Time: 9:30-1:30
Cost: €20
To book please contact Thomas at (085) 113 7728‬
Pitch Remains Closed
As you can imagine, all that snow took its toll on Stag Park. The pitch will remain closed for the moment and will be reviewed again on Thursday ahead of the weekend fixtures.
Scoily Woolies

Found yourself without adequate headwear during the freeze? Don't worry, Scoilly Woolies are just one of the additional items in our upcoming gear order date...
Chicago Fundrasier
The Chicago Team are hard at work on the next stage of planning, with new updates coming soon! Watch this space!
Half-Time Stars
Unfortunately Therèse, Caoilinn & Realtín from the U13s will have to wait for the reschedule for their half-time fame...
However, Mourad & Kaylem from the U12s will be playing this Sunday at the rescheduled Dublin v Kerry @4pm in Croke Park!
Best of luck boys!
How long have you been involved in Scoil Uí Chonaill?
18 months
Do you have any nicknames? How do you like to be addressed?
Aoife or Maguire is fine. Actually, Scoil is probably the first place where I'm not known as "Mags' sister", which is pretty cool!
Where do you hail from?
Marino. I went to primary school, secondary school, and college all within 10 minutes of my house!
How did you come to be involved in Scoil?
Was watching a women's match on TG4 with my brother about two years ago and I was like "hang on! They're picking the ball up off the ground!" After I found out that we're allowed do that, I decided I could give it a go. But having never picked up a football in my life, I was in search of a Mothers and Others team to start me off!
Briefly describe your Scoil career as a player / mentor / contributor, if any.
Went to my first G4MO session in September 2016 in Scoil and started training with the senior team around January 2017. Sprained my ankle in February and then was away for Summer, so not a lot of experience, but I'm back now with a vengeance!
What was the funniest thing that has happened to you in Scoil?
Being one of the last (wo)men standing back in the club at my first dinner dance in 2017. Some craic!
What would you say you are most known for within Scoil? i.e. what do people associate you with?
Nothing yet, I hope! If they do it's probably for something where I made an eejit of myself!
What has been your greatest Scoil moment / achievement?
Sounds cheesy, but actually getting on in a match last week! From never kicking a ball to playing in a adult ladies game in just over a year felt great. I've still a long way to go though!
What is your profession / field of study / passion?
I'm a primary school teacher. I have Naíonáin Bheaga at the moment down in Na Fianna territory!
What are your favourite hobbies outside of GAA?
I play flute, whistle, concertina, guitar and I sing. Not all at the same time though... haven't perfected that yet!
What is your favoutire sporting moment / sportsperson?
Being up in the Hill in the All Ireland semi final against Tyrone last year, and everyone losing their minds when they saw number 12 coming on after Diarmuid Connolly's ban was over. Don't think Eric Lowndes got as big a reaction in his life!
What is your favourite Scoil 'quirk'?
The jersey. When I first joined after being brought up in a Vinnies household, the colours were my biggest hang-up, but the more I was exposed to them, the more they grew on me, and now I love them!
If you could make one addition to Scoil in any way (don't be restricted by the plausible!), what would it be?
IMore 7.5kg weights in the gym and to bring back the retro style geansaí... I'm not that easy to please, really!
Want to feature in the Stag's Voice?
As a Club, we really pride ourselves on the close-knit community that we have at Scoil Uí Chonaill - help us in our effort in getting to know all of our members by filling out the Meet the Member's Questionnaire!
Other News
Dublin Footballers v Kerry has been re-fixed for this Sunday 11th March. Tickets already purchased for the postponed game will be valid for the re-fixture.