Contents:
Croghan Hill Challenge
Chicago Update
Second Round Scoil Gear
Féile Fundraiser
NEIC School Club Link
Dublin Development Squad
GAA Healthy Club Project
Scoil Camps Survey
Meet the Members: Kevin Purcell
Team News
Other News
Fixtures
Chicago Update
What can you find in this article?
Exciting news: Venue confirmed & a number of tables already sold.

Partnerships: Scoil contingent meeting with Irish American business network in Chicago, Senator Billy Lawless visits OCS & Scoil and introducing Sheila Kelly - our dynamic Project Manager!

Coming soon: Communications & promotional material for members to cast their net in the name of PROJECT CHICAGO – Who do YOU know in the US?
If you are an active Scoil member or perhaps a not-so-active member or maybe your involvement is reading this newsletter, but, whichever you are, we hope that you recognize that Project Chicago is special. We're boxing above our weight once again. The foundations for our event in Chicago are now firmly set with the venue being confirmed as The Drake Hotel.
The date, as you know, is Thursday 20th September 2018 and already 13 tables have been sold!
The kick off meeting that was held in Chicago on Tuesday 6th February was attended by 26 people and was a great success. We got to test-run our message and gauge the temperature of our audience of Irish and Irish American people and corporates.
New friendships were made and contacts and the club network provided valuable connections.
We had a very positive meeting with one of our major partners in this venture – The Ireland Funds – and had the chance to showcase how important O'Connell's School and the Club has been historically and our ambitions to keep developing and growing the Club with a very important social justice agenda that defines the sort of open, welcoming, inclusive club we are, supporting the growth of GAA games for some from the inner city who otherwise may not have the opportunity.
Thanks to the team on the ground in Chicago last week – Sheila Kelly, Terry Gallagher, the Egan family – Liam, Kathy and Michael and Colm Kennedy. For those of you who do not yet know Sheila, Sheila has come on board with us for this project as Project Manager. A lady who originally hails from Mayo but has spent 17 years in Chicago having returned to live in Ireland quite recently not realizing that she would be back to Chicago again so quickly!!!
Also quite recently, we had a Chicago resident and supporter of the Club and School – Senator Billy Lawless - pay a visit to both the primary and secondary schools to meet some of the students and then on to visit the club to get a sense of what we're all about. Thanks to Senator Aodhán Ó'Ríordáin for arranging and attending and to Patsy O'Keeffe, Gerry Duffy, Lynn Kidney, all in O'Connells Schools, Dick Murphy, TJ Farrelly and Ramona Kennedy for facilitating.
Our promotional video is almost finished and we're excited about the story we have to tell – more soon!
Over the next few weeks we'll have some marketing materials for club members, the schools, the Past Pupils' Union and friends and supporters to use to promote the event to potential attendees and sponsors. In the meantime please keep your thinking cap on about how we can grow the number of tables sold and potential sponsors for this important fundraiser that will benefit every aspect of the club and also contribute to both the primary and secondary schools.
More information from:
Ladies Take on Croghan Hill
Last Saturday saw over 50 Scoil ladies - made up of Adults Players, Minors & G4M&Os, travel to Co. Offaly to take part in the Croghan Hill Challenge.
The day included team bonding games, a 5km obstacle course on Croghan Hill and A LOT of ice cold water.
Big thanks to Jonny for organising such a great team day out! Highly recommended!
View more pictures from the day on the Croghan Hill Facebook page!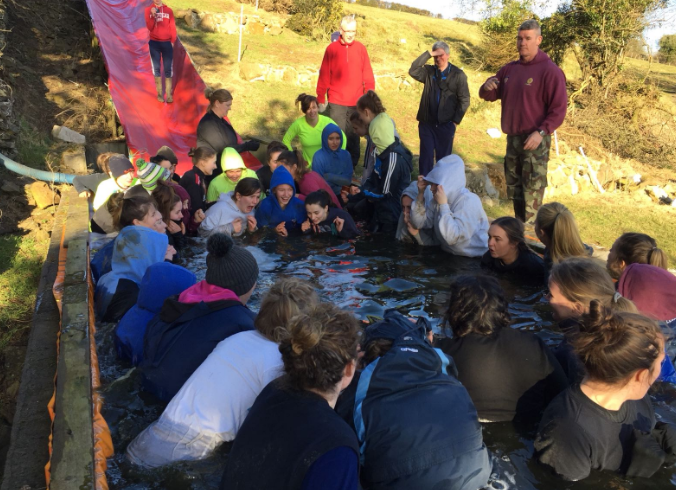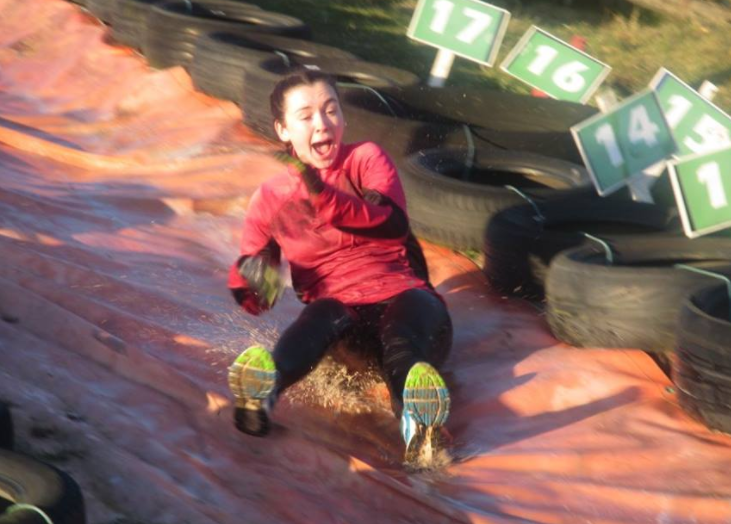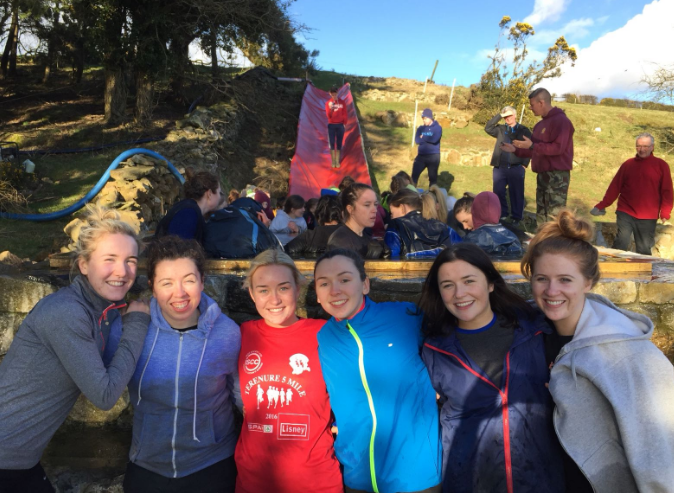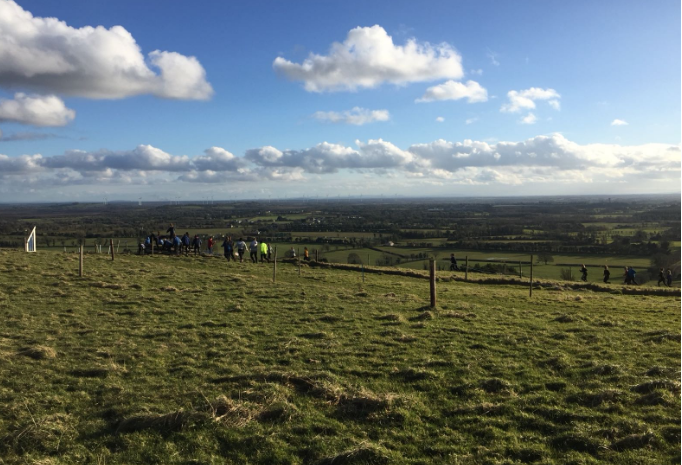 Second Round Scoil Gear
So you've seen some members strutting around in their new uniformed Scoil gear...and now you want some of the action!
Well start putting a few quid away because it'll be Scoil shopping season soon with a new round of gear orders coming soon...
Féile Fundraiser
Well done to the U14 Boys & Girls teams who were bagpacking in SuperValu Killester last Saturday
Thanks to all the parents, members, shoppers & SuperValu for their support.
Great to see former Scoil player Paddy McGuckian supporting the Club also!
NEIC School School Link
Scoil has been chosen for the North East Inner City School Club link programme - aimed at promoting Gaelic games among teenage girls. This hopefully will excite the girls to get involved with the Club outside of school.
This project will see GPO Thomas & some of our adult ladies working with 2 inner city schools - Larkin College & Mount Carmel.
Coaching will last 4 weeks and finish with a blitz in Scoil on Friday 23rd March.
Dublin Development Squad
Congratulations to Aidan Mulligan who was named in the coaching panel of the Dublin U17 Development Squad. Aidan works tirelessly with girls football in Scoil so it's great to see him being recognised at inter county level!
GAA Healthy Club Project
Fantastic news to hear that Scoil have been selected - out of 200 applicants, to take part in Phase 3 of the GAA's Healthy Club Project!
The Healthy Club Project (HCP) began in 2013, in partnership with Healthy Ireland, HSE, National Office for Suicide Prevention, and is kindly supported by Irish Life. Its aim is to make every GAA club in Ireland a hub for health, capable of providing their members and communities with programmes that support their physical, emotional, and social well-being.
Well done to Maura & Aidan for their work on this project!
 
Scoil Camps Survey
This year, we want to make the popular Scoil camps better than ever! To do this, we need you! Send us your feedback & suggestions by filling out the survey prepared by GPO Thomas.
How long have you been involved in Scoil Uí Chonaill?
As far back as I can remember, about 25 years
Do you have any nicknames? How do you like to be addressed?
For years I was just called Kev but I've finally taken the mantle of "Purcell" from my brother
Where do you hail from?
Raised in Clontarf, now living in Marino
How did you come to be involved in Scoil?
My Dad went to the school and got the family involved from there
Briefly describe your Scoil career as a player / mentor / contributor, if any.
I've been playing both Hurling and Football from the beginning with an occasional bit of coaching
What is the funniest thing that has happened to you in Scoil?
There's a video knocking about of me having awful difficulty opening a bottle of Morgan's after the dinner dance, still makes me laugh
What would you say you are most known for within Scoil? i.e. what do people associate you with?
At this stage probably the video I mentioned above (thanks to Daire Ryan)
What has been your greatest Scoil moment / achievement?
Getting promoted to AHL2 last year is something I'll never forget
What is your profession / field of study / passion?
I work in financial services, but I was studying to be a chef at one point which had come in handy since I moved out of home
What are your favourite hobbies outside of GAA?
Us dual stars don't get as much time for hobbies as the single coders
What is your favoutire sporting moment / sportsperson?
When Ireland won the quidditch World Cup even though Viktor Krum caught the Snitch
What is your favourite Scoil 'quirk'?
Watching Mossy O'Carroll driving across the pitch to do umpire
If you could make one addition to Scoil in any way (don't be restricted by the plausible!), what would it be?
I'd say every player says the same but I'd love to see the pitch get a full set of flood lights
Want to feature in the Stag's Voice?
As a Club, we really pride ourselves on the close-knit community that we have at Scoil Uí Chonaill - help us in our effort in getting to know all of our members by filling out the Meet the Member's Questionnaire!
Team News
In Summary:
Nursery was back again at O'Connell school hall last Saturday. New members welcome as always!
U9s were well prepared to O'Dywers after 5 weeks of tournaments at Gormanstown.
After a long winter lay off, the U10 Go Games finally got going again on Saturday with an away football game to Parnells.
Adult football started back with games vs Clontarf & Cuala.
Adult Football
Adult Football League 2: Scoil 0-7 to Clontarf 1-10
Adult Football League 7: Scoil 1-8 to Cuala 0-9
Nursery
Well done to the Nursey Player's of the Week Malek, Sarah & Alex- pictured here with GPO Thomas & football star Andy Bunyan. Thanks to Andy for helping out with the session, as well as inspiring some young players!
U10 Football
After a long, nearly 3 month winter lay off, the Go Games finally got going again on Saturday with an away football game to Parnells. Given the mid term break we had a reasonable turnout of 13 kids and Parnells very generously gave us a few so that we had 4 good competitive games. It was especially good to see our non hurlers back - Saoirse, Davis and Temi.
On pitch 1 we narrowly lost the first game and won the second. We had some good play and some good scores particularly from David who had a good spell up front and in midfield well supported by Temi. Conor K in goals made some great saves and ably supported by his defence.
On pitch 2 things were a bit more competitive and whilst we didn't win the games we had some battling performances throughout the team particularly from Saoirse and Joe who kept plugging away in midfield despite the strong opposition.
A reasonably good start given the long lay off and the fact that we haven't even had a football training session during that period.
Next week a hurling game against Wild Geese away.
U10 Hurling
Sunday was week 5 of the Gormanstown Indoor Hurling tournament. Again given the mid term break we still had a good turnout of 10 kids which was great as kids and parents are still sticking with it despite the travelling every week.
We finally got a win after losing narrowly for a couple of weeks. We won 4 - 3 against Wild Geese with goals from Tadhg x 2, Conor M and Luke. Boys played really well in a good competitive hurling match. Luke was the hero scoring the winning goal. His determination really showed and he wasn't going to leave Gormanstown without a goal.
Next week is the last week.
U9
The road to Balbriggan is well known to the Scoil u9s after 5 weeks of the Gormanstown tournament. We found ourselves at a suberb Astro turf facility out there and despite having played a couple of challenge matches in recent weeks, all the kids were raring to go for their first official outing of the season.
The u9s have decided to enter a 3 team league this season in order to maximize playing time for each player, but that decision back-fired a little this week with the first match coinciding with mid-term and many players unavailable. However, some of Scoil's mighty girls turned out to give us a great boost. Thanks to Caoimhe, Clíodhna, Lauren, Niamh, Emily and Abigail.
All matches on the day were really competitive, so it proved a great first run out. The kids were very aware that the block down counts as a skill point this year and there were some great executions of this on the day. They also stayed focused for the full 40 minutes and kept putting in the effort even when games looked like swinging against them. We saw a couple of great passages of passing, but that being said there were occasions where the pass was on to forwards in space and wasn't given. There's plenty of time to work on this over the coming season.
Well done to all the kids on a great start to the season.
For the Ambers, James kicked some great scores from distance and he and Jake laid on a couple of great scores for each other. Caoimhe was tenacious in attack and her pressure on the opposition defence earned her the point of the game. Ben meanwhile was the block down champ on the day, at one point performing 2 textbook block downs in a row to deny O'Dwyers a score.
For the Blues, there was a strong team performance. Abigail was as classy as ever on the ball and other team members worked hard from start to finish. Matthew has clearly been keeping his skills sharp over the winter break as he was playing at a completely new level to last year, repeatedly slaloming through defenders for impressive scores.
Finally, for the Maroons, Sam had a great influence, making his presence felt all round the field, including a cameo in goals where he was superb. Clíodhna did her part for girl power on the day, scoring a superb goal from 30 metres. Lauren, Fionn and Hugh were all very dependable listening to the coaches, keeping their positions, and keeping the opposition quiet.
We hit the M1 again! Hurling Vs St. Pats Donabate away @11 a.m. on Saturday.
Other News
Tickets are now available for the Dublin Hurlers v Galway on Sunday 25th February @ 2pm in Parnell Park.
Tickets are available for the Dublin Ladies and Dublin Men's Football Teams v Kerry on Saturday 3rd March in Croke Park.