Contents:
Scoil's Chicago Trip
Scoil Social 2018
National Club Draw Tickets
Save St Paul's Pitches
Meet the Members: Hannah Costello
Team News
Other News
Chicago Trip 2018
As announced at the Scoil Social - Scoil are heading for Chicago!

The Club, along with some really great partners, friends and alumni - are hosting a fundraising gala on September 20th with an estimated 300 expected to attend!

Stay tuned as we will have more information and updates regularly get in touch with one of our contacts at the end of this post.

Here are all your questions answered regarding the fundraiser:
Q. Can you recap on what was said on Saturday night at the annual club event in Clontarf Castle about the upcoming event in Chicago?
A. Yes the Club is organising an exciting new fundraising event and we are going to host it Chicago
Q When did we decide to do this?
A. Since the success of Strictly Scoil we've been exploring what our next event would be. Of course it was going to be hard to top Strictly so we had to look hard! And this is the one! Since last August a committee of people from the club have been working on organising and planning this. Now we're ready to get the wider club involved to make this a great success.
Q. What sort of event is it?
A. It is a gala dinner with entertainment…and MORE!
Q How many people will attend?
A. At the moment we estimate 300 people will attend. These people will be friends, alumni, corporate sponsors and some people from the club.
Q. Why are we hosting the event in Chicago?
A. We have some really great partners, friends and alumni in Chicago and the wider USA and we thought it would be great to expand the network of people supporting the great things we do at Scoil.
We already have serious Irish family support in Chicago including Senator Billy Lawless.
Enda Kenny has also officially endorsed the event with a video testimonial.
Q. Where will the event take place?
A. One of Chicago's iconic venues – a decision on this is imminent!
Q. When?
A. September 20th 2018
Q. Can club members attend?
A. Yes of course they can – but we are conscious that it's expensive to travel to Chicago, pay for hotels and attend the event. We'll tell you more about this over the next few weeks when we've finalised the details.
Q. How can club members help support the event?
A. We want people from Chicago and the surrounding area to get involved. You may have personal contacts and business contacts who would be interested in attending – we'd like you to let them know. You might also know others who might like to offer a spot prize or sponsor part of the event.
Q. How much does it cost to attend the event on the night?
A. $500 per individual or $5000 for a table seating ten. We've already sold 7 tables.
Q.Who do I contact to learn more about the event?
A. Stay tuned we will have more information and updates regularly and we will also have a dedicated spot on our website to host details and to keep the club updated. In the meantime, if you have an urgent question, please contact scoilinchicago@gmail.com for general queries or, if you prefer, one of the team members below:
Niamh Murphy at niamhmurphy255@gmail.com,
Dave Walley at dwalley110@gmail.com
Ramona Kennedy at ramonaorourke@eircom.net
Sheila Kelly (Project Manager) at sheilakelly@hotmail.com
Scoil Social 2018
What a night was had last Saturday at the Scoil Social!

Thank you to the wonderful 240 guests who came and made the night as spectacular as it was. This was one of our biggest turnouts yet! Thanks again to our host Clontarf Castle and to the ABBA Girls who truly never disappoint!

A massive thank you to Neil McDermott for capturing so many great shots from the event.
Chairman of five years Declan Hoban led proceedings in Clontarf Castle to introduce his successor, and third-time Chairman, Maurice 'Mossey' O'Connell as he ushered in the announcements of this years recipients of the Club awards;
Young Ladies Player Of The Year;
Hannah Costello
Ladies Player Of The Year;
Sinead deBurca
Scoil Sirens Player's Player Of The Year;
Mairead O'Sullivan
Young Player Of The Year;
Danny Mottram
Junior Hurler Of The Year;
Shane Cotter
Intermediate Hurler Of The Year;
Podge Kinsella
Junior A Footballer Of The Year;
Ger O'Connell
Junior B Footballer Of The Year;
Aidan Mulligan
Senior Footballer Of The Year;
Andy Bunyan
Club Person Of The Year;
Paraic Naughton
Many congratulations to all this year's winners. It is great testament to their hard work and dedication and will no doubt do nothing to hinder their future commitment!
National Club Draw Tickets
Tickets & money are to be returned to team mentors by 31st January.
The GAA National Club Draw will take place on Friday, March 11th 2016.
Save St Paul's Pitches
Scoil & other local clubs have been asked to take part in rally on Sunday 28th January @12pm in St Anne's in order to stop the proposed residential development on the Paul's playing fields.
More information about the rally will be released on the I Love St Anne's Facebook Page.
Let's get out in our jerseys and support!
How long have you been involved in Scoil Uí Chonaill?
Since in and around the age of seven
Do you have any nicknames? How do you like to be addressed?
Just Hannah or Louis Costello's sister but I've a feeling that will be changing soon.
Where do you hail from? i.e. county, country, suburb etc.
I hail from Clontarf, but have nothing to do with the club obviously.
How did you come to be involved in Scoil?
My brother was involved before me and there was a strong connection between my primary school and the club.
Briefly describe your Scoil career as a player / mentor / contributor, if any.
I started off as a full back but was gradually moved into goal (I'm still fighting for my odd game outfield). I started playing for the ladies about three years ago and won the Young Player of the Year award this year.
What would you say you are most known for within Scoil? i.e. what do people associate you with?
I'd say I'm best known for being 'that tall one in the goal' and also for saving a dodgy goal at the end of the ladies final this year.
What has been your greatest Scoil moment / achievement?
I'd say it's a tie between saving that goal and winning Young Player of the Year. They were both spectacular moments in different ways.
What is your profession / field of study / passion?
I'm currently in 6th Year (sigh) but hope to do medicine in the future.
What are your favourite hobbies outside of GAA?
...we're allowed have hobbies outside of GAA?
If you could make one addition to Scoil in any way (don't be restricted by the plausible!), what would it be?
More smaller weights in the gym so we don't have to keep fighting over the one set of 7.5kg dumbbells.
What is your favourite Scoil 'quirk'? e.g. the Geese on the pitch
The 'scary' hawk that scares off the geese???
If you close your eyes and envisage Scoil in 10 years, what do you see?
I see it exactly the same cause it's already perfect, but with more members.
Finally, if you had to describe yourself as an animal, what would it be and why?
I honestly don't know. Probably something weird and obscure.
Team News
Nursery
Well done to all nursery players (2012 group) who took part in the Gormanston Indoor hurling tournament on Sunday. For many of the players it was their first time representing Scoil and they did themselves proud against a strong Ratoath Team. The tournament continues for another 4 weeks and new players are welcome.
U8
A mixed boys & girls U8 team played Raheny on Sunday morning in Gormanston. A huge effort as put in by each player and all were impressed by the skills on view.
Well done to all parents and coaches for the early start after the Scoil Social.
U10 Hurling

The Under 10 boys kicked off the 2018 season in the Gormanstown Indoor Hurling tournament with a draw against Rathoath. The tournament runs for 6 weeks and is a great way for the lads to get hurling game time in winter when the ground conditions for hurling are so bad. We had great support from the parents for the game with a good crowd turning up to see the lads playing.
Before christmas the team had a trip to Ratheniska club in Laois for hurling and football. They were the perfect hosts in terms of hospitality laying on a great spread and even arranged for Santa to turn up. Unfortunately we were well beaten but for a first road trip the kids were happy.
We are looking forward to a great 2018.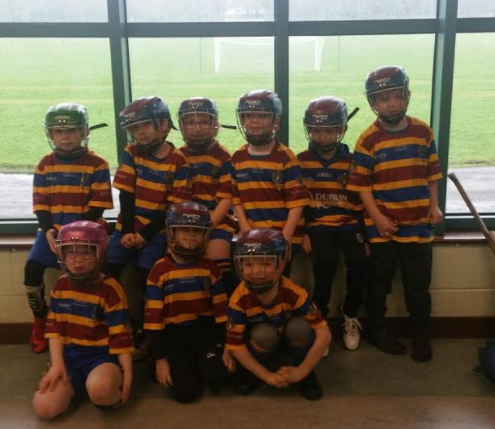 Other News
Reminder that the fixtures have been announced for the Dublin GAA Spring Series in Croke Park.
The Scoil Ladies are in search of a manager to help out with the second team on match days (Wednesdays). Anyone interested should contact Jonny at 0872593298